Greetings

Greetings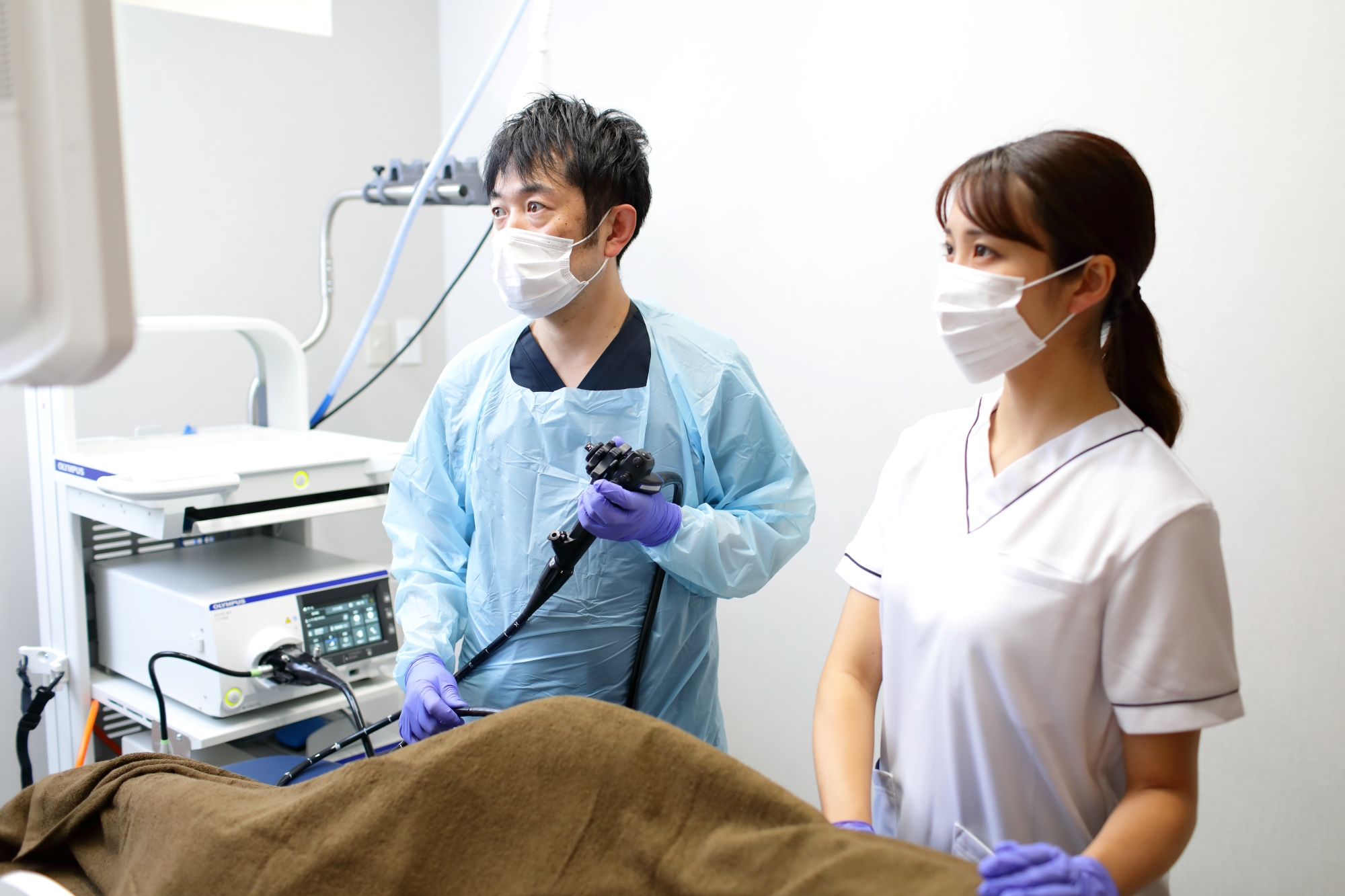 Our clinic specializes in general internal medicine, digestive internal medicine, endoscope examinations and gastroenterology.
Regular gastrointestinal and colonoscopies can facilitate early detection and prevention of stomach and colon cancer. Ensuring our patients' comfort during endoscopy examinations is our top priority. A Japan Gastroenterological Endoscopy Society specialist doctor will safely perform the endoscopy. We have successfully carried out 800 Endoscopic Submucosal Dissection (ESD) procedures. This is a highly complex endoscopic operation for removing early gastric cancer, colon cancer, and esophageal cancer. As a friendly, family clinic, we work diligently every day to provide the community with peace of mind, ensuring that everyone can comfortably attend our services.
Our philosophy

Our philosophy
01

Strive to eliminate deaths from stomach cancer, colon cancer, and esophageal cancer (early detection will not affect prognosis)
02

Provide comfortable endoscopy examinations with minimum pain
Some of the special features of our clinic

features of our clinic
Feature 01

All endoscopy and surgical procedures are performed by specialists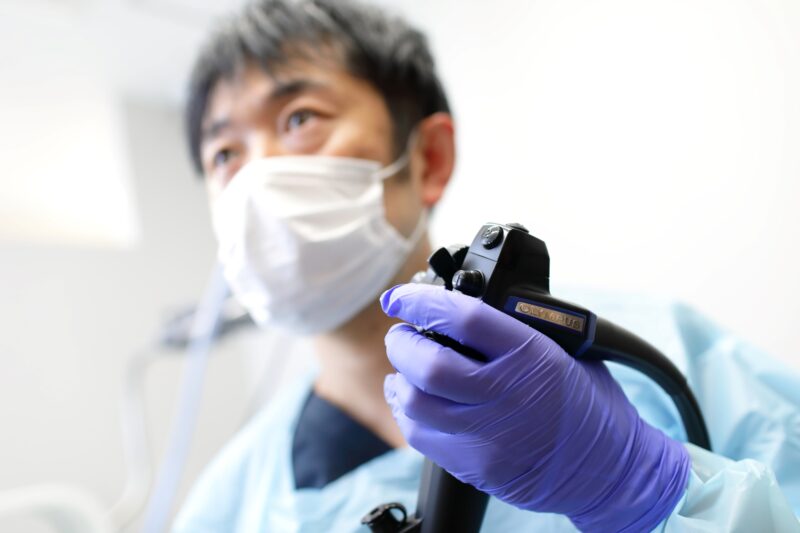 At our clinic, endoscopic and surgical procedures are carried out by doctors with Japan Gastroenterological Endoscopy Society specialist and advisor qualifications and also Japan Society of Coloproctology specialist and advisor qualifications.
We have performed about 10,000 colonoscopies and about 1,000 polypectomies and mucosal resections, all carried out with high accuracy and minimum pain.
Feature 02

A choice of transnasal or oral gastroscopy

You can choose to have a transnasal gastroscopy, which does not cause any gagging or an oral gastroscopy under sedation to suppress any pain.
Feature 03

Colonoscopy with minimum pain and maximum comfort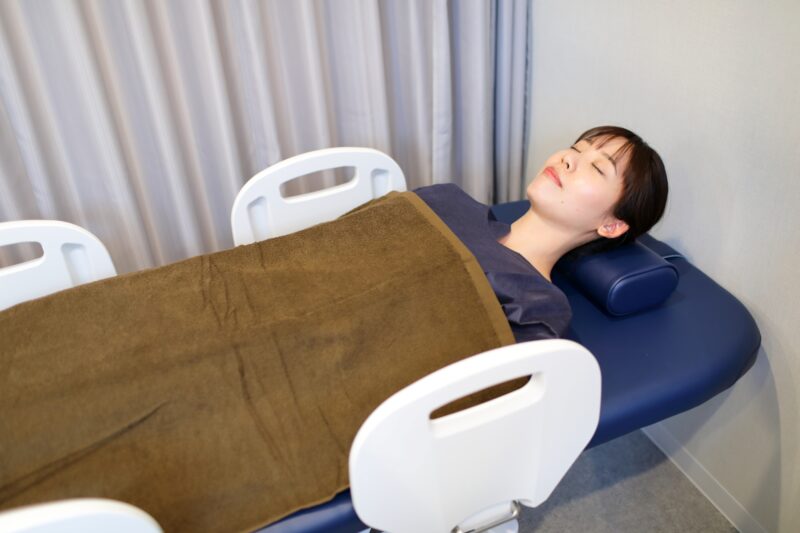 We offer various options for pain reduction during colonoscopies.
First, sedatives and analgesics are used to relieve the pain and discomfort of the examination. In addition, by inflating the intestines with carbon dioxide, we can suppress any tension and nausea in the stomach after the examination.
Feature 04

Endoscope system with magnifying function and special light (NBI) observation function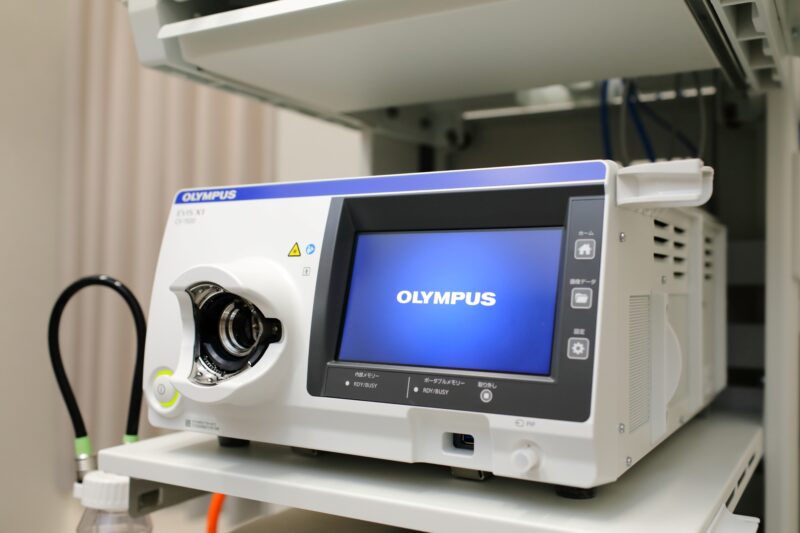 Olympus' latest endoscope system (EVIS X1) is equipped with special optical NBI and scope magnification functions, enabling observation of even the most minute lesions without any oversights.
Feature 05

One-day colorectal polypectomy

Colon polyps found at the time of examination can be removed at our clinic. There is no need for hospitalization for day surgery, which can reduce the risk of developing colorectal cancer in the future.
Feature 06

Endoscopic examinations by female physicians are also available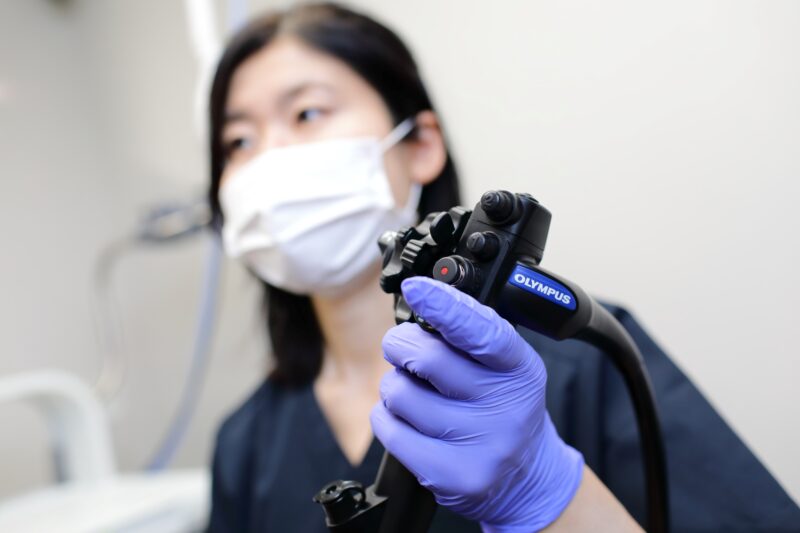 A female doctor will perform the endoscopy. We are committed to creating a safe and comfortable environment for women, where privacy is always taken into consideration.
Feature 07

Endoscopy with blue light illumination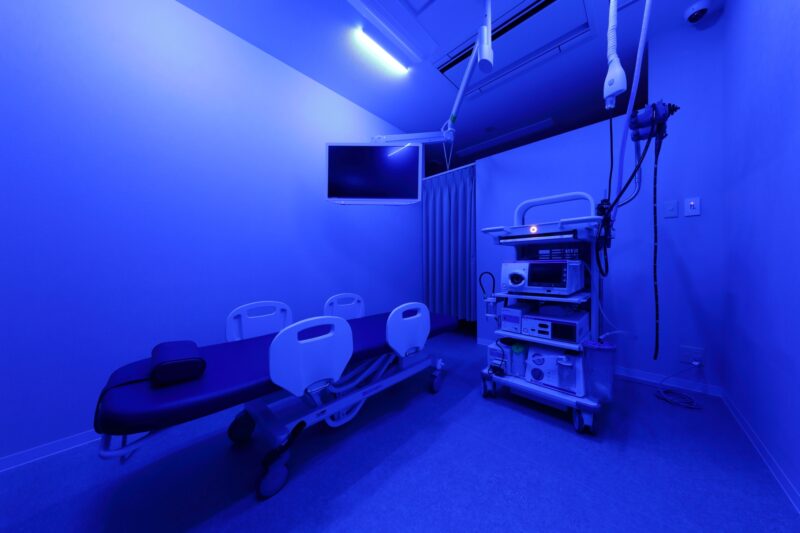 By utilizing blue light illumination, lesions can be visualized with greater detail, enabling the early detection of cancers.
Feature 08

Convenience of performing gastrointestinal and colonoscopy procedures on the same day as your consultation.

To support patients who have to travel a long distance or who are busy with work, we have set up a system where you can have a gastroscopy or colonoscopy on the same day as your examination booked online or over the phone.
Feature 09

Laxative administration conducted in a semi-private room, ensuring utmost privacy

We provide the option of laxative administration for colonoscopy in a semi-private room. If you feel anxious about taking laxatives at home or your residence is far away, don't hesitate to reach out to us.
Feature 10

Stretcher transportation for post-inspection peace of mind

If a sedative is used, the patient will be taken from the examination room to the recovery room while still asleep after the examination. Please be assured that you won't be walking around immediately after the examination when you are sedated.
Feature 11

Endoscopy available on Saturdays and Sundays

For those who are busy on weekdays and are unable to come to the clinic, we provide endoscopies and polypectomies on Saturdays and Sundays.
Feature 12

Endoscopy with thorough cleaning and sterilization reduction to prevent infection

We follow the guidelines of the Japanese Society of Gastrointestinal Endoscopy for thorough hygiene management. Examination instruments used for endoscopy are cleaned and sterilized after each examination using the latest cleaning system.
Feature 13

Conveniently located 2 minutes walk from Musashi Kosugi Station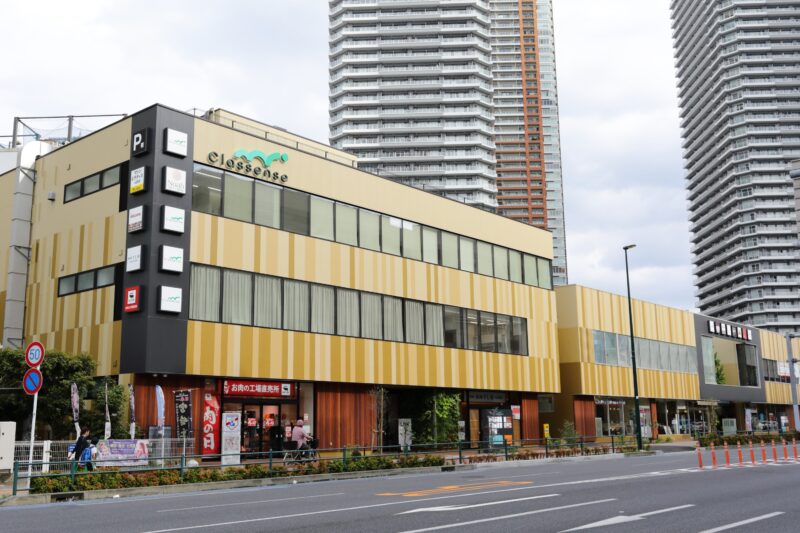 It is easily accessible, a 2-minute walk from Musashi Kosugi Station on the JR Yokosuka Line and a 3-minute walk from Musashi Kosugi Station on the Tokyu Toyoko Line and JR Nambu Line. If you live nearby, you can take the laxative at home and promptly head to our clinic.
Doctor referral system

Doctor referral system
Our goal is to provide the best care for our patients, and continue to support their health. We would love to hear from physicians specializing in fields such as digestive internal medicine, endoscope examinations and gastroenterology. Our staff look forward to welcoming you.
Naoki Hirano, Chairman of the Board, Heiseikai Medical Corporation
Specialist and certified physicians
Gastroenterological Endoscopy Society medical specialist councilor of Kanto branch
Japanese Society of Internal Medicine internal medicine specialist
Japanese Society of Gastroenterology specialist
Japan Society of Coloproctology specialist and advisor
Japan Society of Hepatology specialist
Cancer treatment certified physician
Japanese Society for Helicobacter Research certified physician
Japan Medical Association certified physician
Clinic

Clinic
| Consultation hours | Mon | Tue | Wed | Thurs | Fri | Sat | Sun and public holidays |
| --- | --- | --- | --- | --- | --- | --- | --- |
| 09:00 to 18:30 | ● | ● | ● | ● | ● | ● | ● |
※The clinic is open by appointment only from 1:00 p.m.-4:00 pm.
※Last admission is at 6:15 p.m.
| | |
| --- | --- |
| Tel | 044-430-6357 |
| Address | Classense Musashi Kosugi North Bldg. 2F, 3-1156-2 Shin-Maruko Higashi, Nakahara-ku, Kawasaki, Kanagawa, 211-0004, Japan |